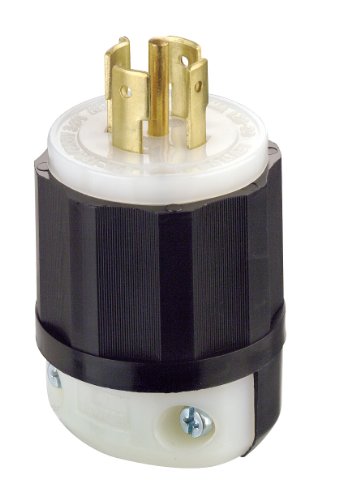 Leviton
Leviton: 2511, 20 Amp, 120/208V, 3PY, NEMA L21-20P, 4P, 5W, Locking Plug
This item is approved for W-C-596 drawing.
AC Horsepower Ratings
Electrical Specifications
Grounding: Grounding
Amperage: 20 Amp
Voltage: 120/208 Volt 3PY
NEMA: L21-20P
Pole: 4
Wire: 5
Dielectric Voltage: Withstands 2000V per UL498
Current Interrupting: Certified for current interrupting at full rated current
Temperature Rise: Max 30C after 250 cycles OL at 200 percent rated current
Environmental Specifications
Flammability: Rated HB or better UL94
Operating Temperature: -40C to 60C
Material Specifications
Body Material: Impact Modified Nylon
Back Cover: Thermoplastic
Wire Module: Nylon
Cord-Clamp: Nylon
Clamp Insert: Nylon
Blades/Contacts: Solid Brass
Terminal Screws: Brass
Assembly Screws: Steel, Zinc Plated
Color: Black-White
Mechanical Specifications
Terminal ID: Brass-Hot, Green-Ground, Silver-Neutral
Terminal Accom.: 18-10 AWG
Product ID: Ratings are permanently marked on device
Cord Range: .595 - .895
Wire Gauge: 14-10 AWG
Product Features
NEMA: L21-20P
Color: Black-White
Standards and Certifications
NEMA: WD-6
ANSI: C-73
UL498: File E13393
UL Fed Spec WC-596: File E13393
CSA C22.2 No. 42: File LR-406
NOM: 057
Our company's Certificate of Conformance is available free of charge. (No Manufacturer CofC).
| | |
| --- | --- |
| Shipping: | Standard Shipping (starting $9.99 for US) |
| Ships to: | USA, Canada, Mexico, India, Ireland |
| Return Policy: | See our return policy |
Please read our Terms & Conditions. By purchasing an item from our store, buyer acknowledges and accepts our terms and conditions.
---
More from this collection