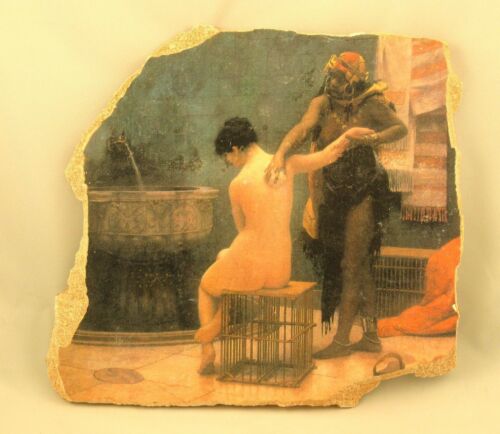 none
Icon HAREM Girls - The Bath - Jean-Leon Gerome - Medium Replica #14-02
New
Icon of Harem Girls - The Bath - Jean-Leon Gerome 
MEDIUM SIZE REPLICA
One of many slave girl pictures, by painter Jean-Léon Gérôme.
This replica was made with Gypsum Stone. Hand made replication process has extensive aging process.
You can display by hanging on your wall or on an easel.
This hand made piece can be a nice gift or perfect display unit for your home.
Pictures are taken in different light exposure for you to see clearly and decide per environment you will be displaying.
Each replica is unique since touch ups are different due to artists' work. Dimensions are different for each replica but we are indicating dimension ranges below.
Dimensions: (Aprroximately)
Dimension variations(longer or shorter) can be about 1" for width and height.
Replica Dimension: 7.5"x9.5"
Replica Thickness: 1/2"
Please see our eBay Store, Icon Art section for other replicas.
Our company's Certificate of Conformance is available free of charge if requested. (No Manufacturer CofC).
Please read our Terms & Conditions. By purchasing an item from our store, buyer acknowledges and accepts our terms and conditions.